Mantra Men's Club
Nourish
Regular price
£21.99
Sale price
£18.99
Unit price
per
Sale
Sold out
Organic whole food supplement packed with nutrient-dense ingredients.
Daily organic vegan nutrition.
A blend of 35 grains, greens, fruits, berries, seeds, vegetables, mushrooms, herbs and bio-active enzymes.
Benefits include - 
Optimum health

Organic nourishment
Energy levels
Digestive health
A healthy metabolism
INGREDIENTS (dried, powdered): Capsule Shell: Hydroxypropyl Methylcellulose (HPMC)*, Pre-Sprouted Activated BARLEY Powder (Hordeum vulgare), Lucuma Fruit Powder (Pouteria lucuma), Linseed (Flaxseed) Powder (Linum usitatissimum), WHEAT GRASS Powder (Triticum aestivum), Quinoa Powder (Chenopodium quinoa), BARLEY Grass Powder (Hordeum vulgare), Acai Berry Powder (Euterpe oleracea), Baobab Pulp Powder (Adansonia digitata), Kelp Powder (Ascophyllum Nodosum), Spirulina Powder (Arthrospira platensis), Turmeric Powder (Curcuma longa), Apple Powder (Malus Sylvestris), Alfalfa Powder (Medicago sativa), Carrot Powder (Daucus carota), Bilberry Fruit Powder (Vaccinium myrtillus), Spinach Leaf Powder (Spinacia oleracea), BARLEY Grass Juice Powder (Hordeum vulgare), WHEAT GRASS Juice Powder (Triticum aestivum), Beetroot Powder (Beta vulgaris), Acerola Cherry Extract (Malphigia glabra), Chlorella vulgaris (Broken Cell Wall) Powder, Nettle Leaf Powder (Urtica dioica), Tomato Powder (Lycopersicum esculentum), Bilberry Extract (Vaccinium myrtillus), Blueberry Powder (Vaccinium sp.), Cranberry Powder (Vaccinium macrocarpon), Green Cabbage Powder (Brassica oleracea), Kale Powder (Brassica oleracea acephala), Parsley Powder (Carum petroselinum), Kale Sprout Powder (Brassica oleracea acephala), Broccoli Sprout Powder (Brassica oleracea italica), Reishi Mushroom Powder (Ganoderma Lucidum), Cordyceps Mushroom Powder (Cordyceps militaris), Shiitake Mushroom Powder (Lentinula edodes), Cauliflower Sprout Powder (Brassica oleracea botrytis), Maitake Mushroom Powder (Grifola frondosa), Enzyme Blend* (protease*, amylase*, bromelain*, cellulase*, lactase*, papain*, lipase*). * = Non organic.
ALLERGY ADVICE: This product contains GLUTEN. May contain MUSTARD. Manufactured in a facility which handles cereals, egg, milk, nuts and products derived from crustaceans, mustard and soy.
Suitable for vegetarians and vegans.
Kosher approved.
Usage
1 or 2 capsules to be taken 1 to 3 times per day, or as advised. Up to 16 capsules can be taken per day, depending upon requirements.
To be taken continuously for 2 to 3 months in order to derive maximum benefits.
The ingredients explained
Pre-sprouted activated barley
Barley has been used as a nutritious food staple for thousands of years. For example, the Roman army marched on it; it was the main component of their diet. Similarly, Greek gladiators trained on it and were known as "barley eaters." In ancient Rome, a food made from sprouted barley, honey and colostrum was used to sustain infants whose mother's died in childbirth. In more recent years, the same formula has been used by the UN to prevent starvation in 3rd world countries.
With pre-sprouted barley, all of the enzyme and nutrient activity in the grain is captured just before sprouting. It contains a range of nutrients, including tocotrienols, beta-glucans, vitamins (including vitamin A, B1, B2, B3, B5, B6, folic acid and vitamin E), minerals (including potassium, calcium, phosphorus, magnesium, iron, zinc, copper, and manganese), all 8 essential amino acids, fatty acids (essential fatty acids - linoleic acid (omega 6), linolenic acid (omega 3), as well as lauric acid, stearic acid and oleic acid), soluble fibre and enzymes (including Super Oxide Dismutase). It also ranks low on the glycemic index and, as a long-chain carbohydrate that takes up to 4 hours to break down in the digestive tract, provides a slow, sustained release of energy.
Alfalfa
Alfalfa (Medicago sativa) is native to Asia, but is now found in temperate regions. This sprout contains alkaloids, isoflavones, coumarins and sterols. It also contains 8 essential enzymes: - amylase (digests starches), coagulase (coagulates milk), invertase (converts sugar into dextrose), emulsin (acts upon sugars), peroxidase (oxidases blood), lipase (fat-splitting enzyme), pectinase (forms a vegetable jelly from pectin) and protease (digests protein). Together with its rich content of enzymes, alfalfa offers a broad spectrum of vitamins and minerals including pro-vitamin A (B-carotene), B6, C, D, E, K and P. Alfalfa yields 10 times more mineral value than average grains. The roots penetrate sub-soil as far as 125 feet, thereby enabling it to absorb vital mineral nutrients beyond the reach of other vegetation (including calcium, magnesium, phosphorous and potassium).
Barley grass
Barley grass is the leaf portion of the barley plant. It is a source of dietary fiber, organic sodium, vitamins (such as beta carotene, vitamins B1, B2, B6, C, folic acid and pantothenic acid), minerals (such as potassium, calcium, magnesium, iron, copper, zinc, phosphorus and manganese), amino acids, enzymes (such as superoxide dismutase (SOD)) and phytonutrients (such as chlorophyll).
Beetroot
Beetroot is the taproot portion of the beet plant. It is one of several of the cultivated varieties of Beta vulgaris grown for their edible taproots and their leaves (called beet greens). It is a source of dietary fibre, folate (vitamin B9), manganese, potassium, iron and vitamin C. The deep red colour of beetroot results from the presence of a type of betalain pigment (betacyanins). Beetroot is also a source of betaine and inorganic nitrates.
Bilberry fruit
The bilberry (Vaccinium myrtillus) is a round, flat-topped, tiny fruit that grows in the wild, and is seldom cultivated. The berries grow profusely on small, wiry shrubs, mainly on high ground in the north and west of the British Isles. Due to its small size and blue colour, it is often mistaken for a blueberry, but it actually tastes quite different.
Carrot
The carrot (Daucus carota) is a root vegetable, which is often under-rated in terms of its nutritional content. Carrots are a particularly good source of vitamin A (from beta-carotene), dietary fiber, potassium, biotin, vitamin K (phylloquinone) and vitamin B6.
Dandelion root
The roots of the dandelion plant contain a complex carbohydrate called inulin, as well as vitamins (including A, B complex, C and D), minerals (including zinc, calcium, iron and potassium) and compounds called sesquiterpene lactones.
Green tea leaf
Camellia thea, or green tea, is a source of catechin polyphenols - Epigallocatechin gallate (EGCG), in particular.
Kelp
Kelp is a large edible seaweed (algae), which grows in underwater "forests" in shallow oceans. It contains vitamins (such as A, B1, B2, C, D and E), minerals (such as iodine, vanadium, zinc, magnesium, iron, potassium, copper and calcium), enzymes (haloperoxidases), amino acids (including tryptophan, threonine, isoleucine, methionine, cysteine and valine) and chlorophyll.
Iodine contributes to: normal cognitive function, normal energy-yielding metabolism, normal functioning of the nervous system, the maintenance of normal skin, the normal production of thyroid hormones and normal thyroid function, as well as to the normal growth of children. 
Lemon peel
Lemon peel contains pectin, fibre, calcium, potassium and Vitamin C, as well as citrus bio-flavonoids.
Spinach leaf
Spinach (Spinacia oleracea) is an edible flowering plant in the family Amaranthaceae native to central and western Asia. It contains vitamins A, B2, B6, B9 C, E and K, lutein, magnesium, manganese, folate, betaine, iron, calcium, potassium, folic acid, copper, protein, phosphorus, zinc, niacin, selenium and Omega 3 oils. More recently, opioid peptides called rubiscolins have also been found in spinach.
Spirulina
Spirulina is a blue-green microalgae. It contains between 55 and 70% protein (more than beef, chicken, and soybeans), 8 essential and 10 non-essential amino acids, as well as gamma-linolenic acid (GLA), beta-carotene, linoleic acid, arachidonic acid, vitamin K, pantothenic acid, magnesium, potassium, thiamin, riboflavin, niacin, iron, copper, manganese, nucleic acids RNA and DNA, chlorophyll and phycocyanin (a pigment-protein complex that is found only in blue-green algae).
Turmeric
Turmeric (Curcuma longa) is a rhizomatous herbaceous perennial plant of the ginger family, Zingiberaceae. It is a spice which contains dietary fibre, volatile oil, vitamins (such as vitamin C and vitamin B6), minerals (such as potassium, calcium, iron and magnesium) and the yellow pigment, curcumin.
Wheatgrass
The crop from germinated seed of wheat grains, wheatgrass is a source of chlorophyll, plant protein, enzymes (including superoxide dismutase (SOD)), vitamins (including vitamins A, C, K, E and all the B vitamins) and trace minerals (including iron, phosphate, boron, copper, selenium, sodium, calcium, magnesium, potassium, chromium, manganese and zinc). 
Share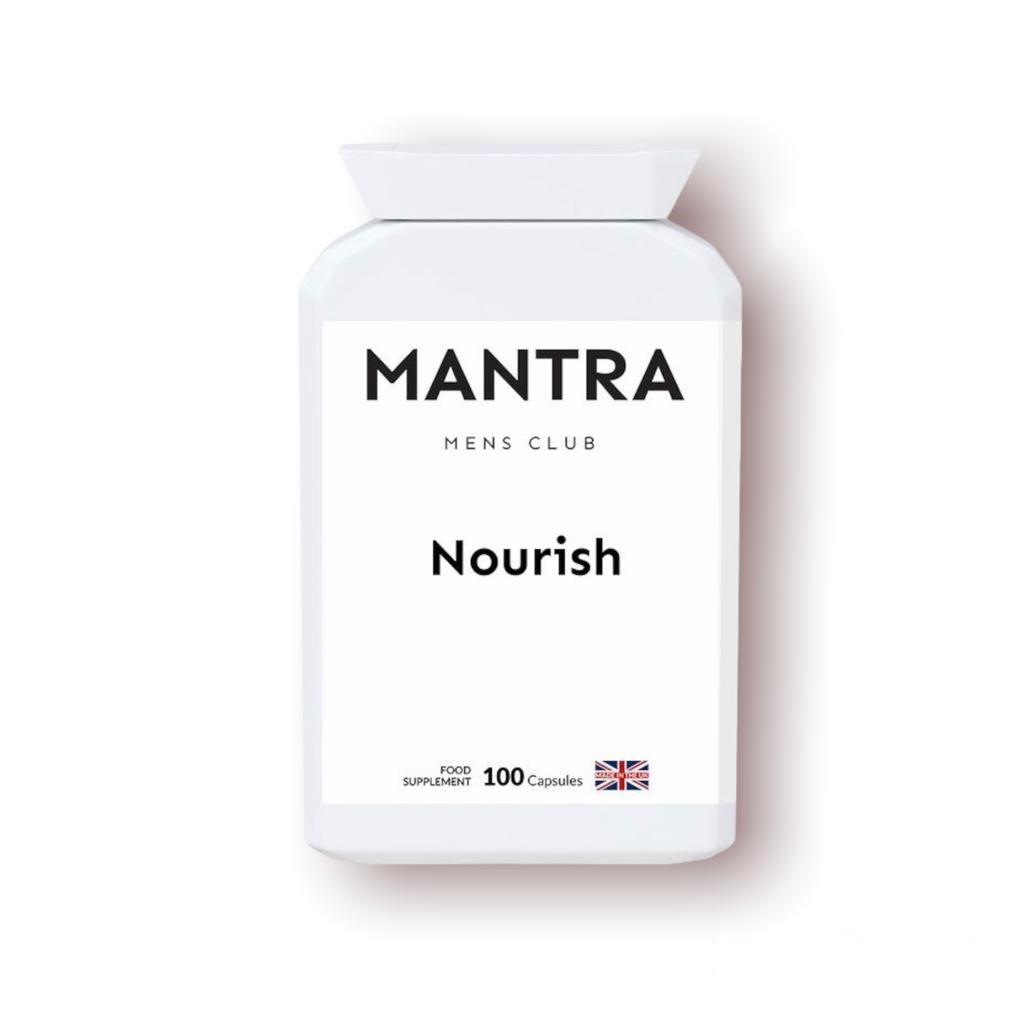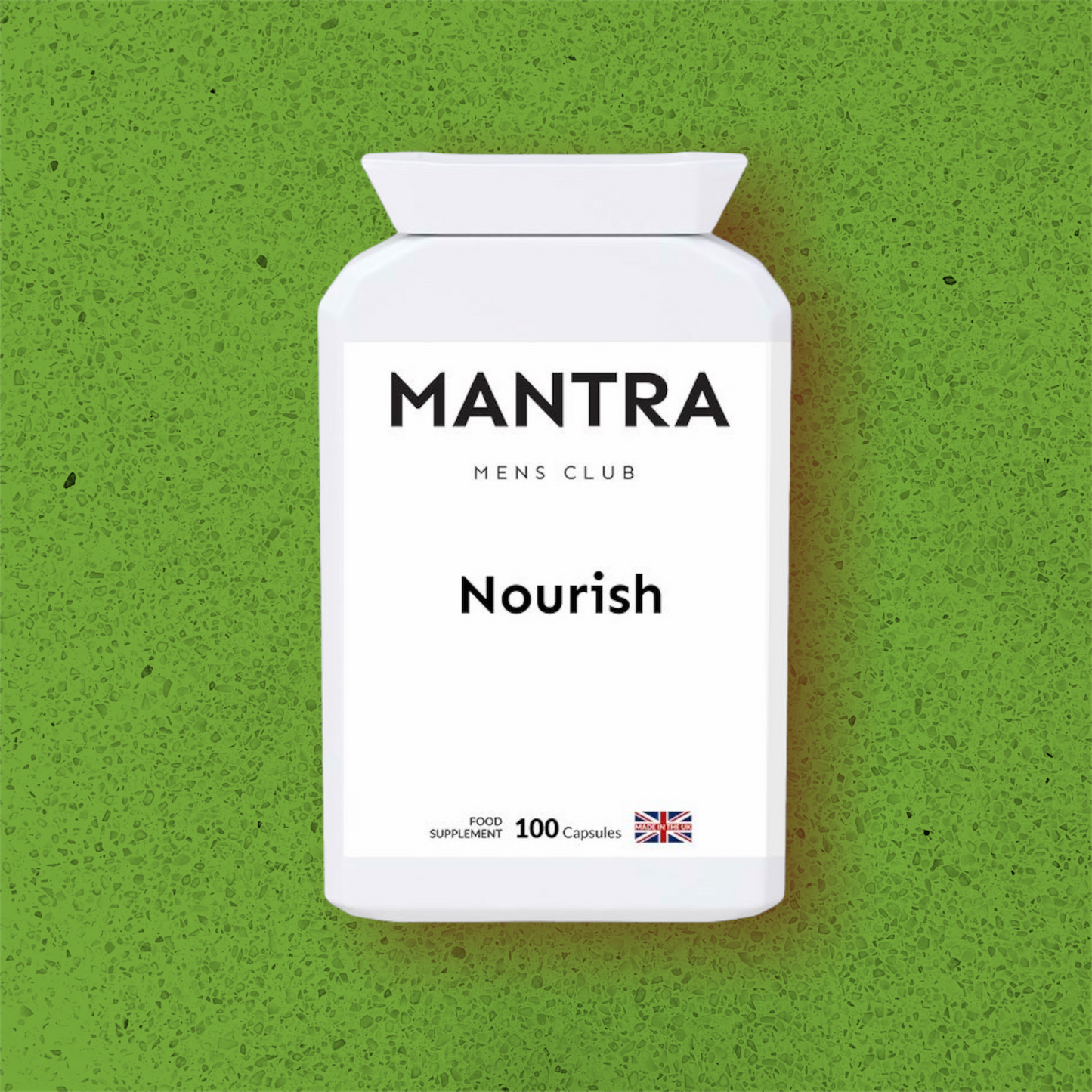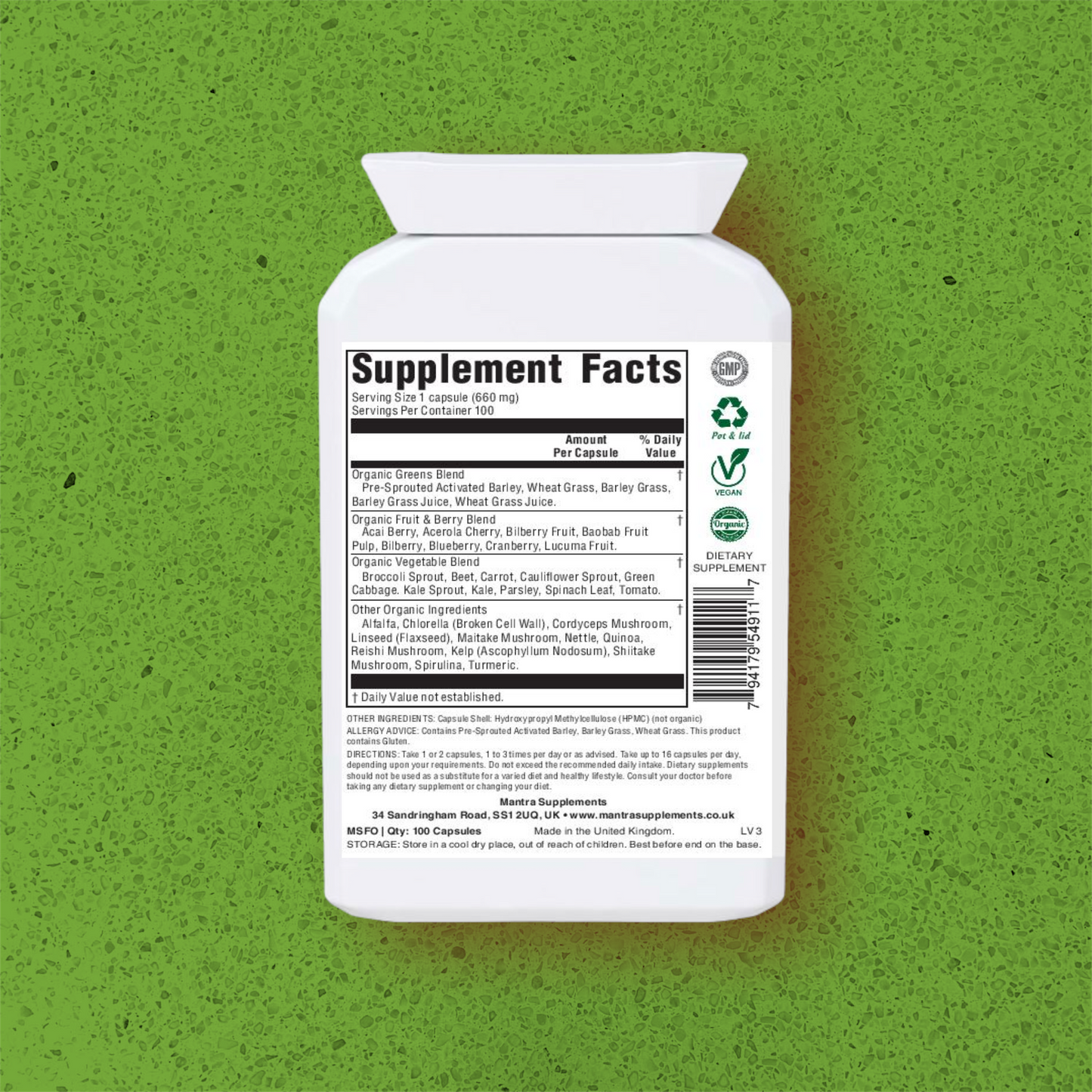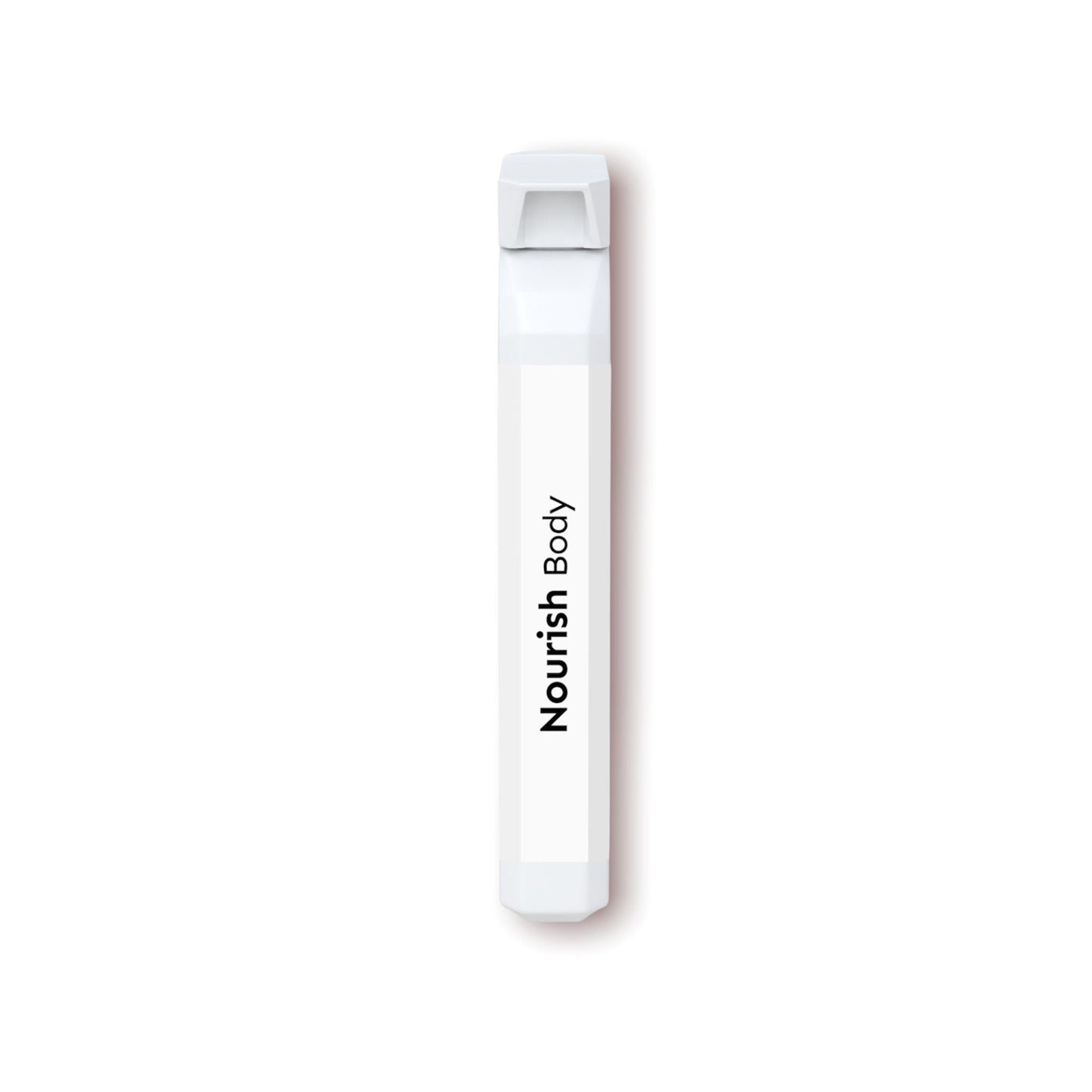 Frequently asked Questions
Good to know

When taking a supplement, please remember to take it regularly for at least a month to experience the benefits associated with each product.
Who are your products suitable for?

Our range was originally created for men, but they work great for women too.
Which products are Vegan friendly?

Açai, Combat, Immunity, Maca, Detox, Cognition, Nourish & ReFlex.
Which products are Gluten-free?

Açai, Combat, Immunity, Krill Oil, Marine Collagen, Maca, Detox, Cognition & ReFlex.
Which products are Dairy-free?

Açai, Combat, Immunity, Krill Oil, Marine Collagen, Maca, Detox, Nourish & ReFlex.
Where are Mantra Supplements ingredients sourced?

Whilst we manufacture our products in the UK not all ingredients can be found here. Our raw materials can be sourced in the UK and across the world, to strict pharmaceutical or food grade standards. We are continually updating our source of ingredients to find the best, highest quality ingredients.
What packaging do you use to be sustainable?

The materials that we use for our bottles are fully recyclable.
Where is my order?

Our warehouse is operating as normal but deliveries may experience delays of 2-3 days due to the current situation impacting our delivery providers. Overseas orders may experience longer delays. Your order will have been dispatched up to 48hrs after you placed your order and we would ask that you wait 2-3 days for the order to arrive. In the unlikely and unfortunate event that your order is still not received within in this time frame please contact us at hello@mantrasupplements.co.uk and we will check the tracking numbers, if the order has not been delivered we will arrange for a replacement as soon as possible.
How do I cancel or amend my order?

All orders are prepared or dispatched within 24 hours by our warehouse teams (all orders placed on Fridays, weekends and public holidays dispatched within 24 hours after the next working day). If for any reason you wish to cancel or make a change to your order we advise that you contact our customer care team on hello@mantrasupplements.co.uk immediately after placing your order, we cannot guarantee that your order can always be cancelled or changed before it is dispatched. If you have placed an order in error and we cannot stop it being dispatched, we will of course arrange a free-return and refund for any unwanted product(s).
How do I return a product?

We're sure you'll love your products but if you're not happy for any reason, we offer a 'no quibble' refund or exchange. Just email us at: hello@mantrasupplements.co.uk with your order number and we will help with your return. You can read more about our returns policy here
The item that I want to order is out of stock on your website, when will it come available?

We cannot guarantee exactly when the item will be back in stock, but we do everything we can to replenish our stock as quickly as possible. We want to keep you updated on when we get items back in stock, so please subscribe and we will let you know once it's back in stock.
How can I pay for my order?

We accept all payment methods listed in the footer below.
What is the best way to contact you about my order?

Please email us at hello@mantrasupplements.co.uk for any queries you may have.
Where are Mantra Supplements products manufactured?

Mantra Supplements is a British company and we ensure all of our Vitamins & Supplements are manufactured in the UK to GMP Standards.
What is GMP Standards?

Good manufacturing practice (GMP) is the minimum standard that a supplements manufacturer must meet in their production processes.
Products must:

Be of consistent high quality

Be appropriate to their intended use

Meet the requirements of the marketing authorisation (MA) or product specification.

More can be found about what is inspected to meet these standards here.